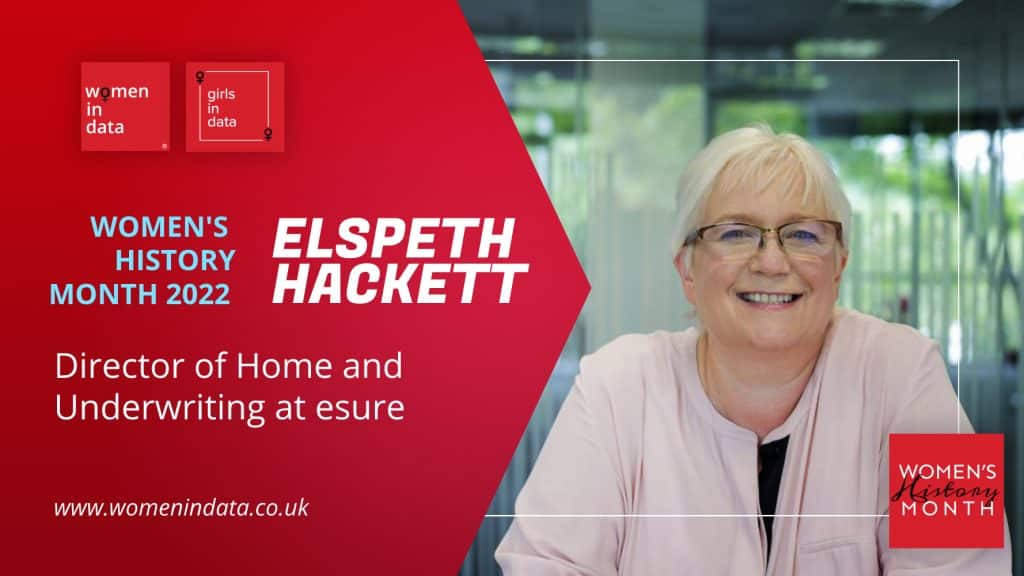 Elspeth Hackett, Director of Home and Underwriting at esure
My Data Career in Insurance
After completing a degree in music to become a professional trumpeter it became clear that wasn't a sustainable career choice (I knew that before, but it was great fun!). Like many young graduates I was looking for a job and my eye was caught by a new insurance company and I thought that it would be an interesting 'filler' – but it was the start of my career of more than 30 years in various different roles, currently I'm Director of Home and Underwriting at esure.
One of the appeals of insurance is that it's constantly changing and that's never as true as now. In recent times customer sentiment has tended to be one of mistrust and insurance products are seen as a grudge purchase with the benefit only being seen at the time of a claim. As a result there has been a lot of focus placed on the cheapest price at the expense of customer journey, product differentiation, flexible benefits and establishing long lasting relationships.
There is much talk within the industry of digital first propositions, seamless customer journeys, data-driven decision making at the heart of everything and data being key to strategic decision–making, however the reality can often be a very different story. Being a data driven business involves more than just having data and how you to use it. It involves integrated technology and services, monitoring, scalability, governance, support and security – and importantly it requires talent to enable these things.
The insurance market will only be seen as a 'force for good' if it can anticipate and react to customers ever-changing lifestyles, expectations and needs. At esure we recognise that the only way to truly disrupt the market and to change the way the industry is perceived is through 'Data Magic' – use of data & technology for innovation, which takes great investment in people.
Throughout my career, I have more often than not been the only female in many meetings and one of a small number in leadership roles. I've had and continue to have the pleasure to work with role models and allies both female and male, who I see supporting others to reach their full potential and I'm passionate about attracting, retaining and developing female talent, both by active membership of I&D initiatives and through every part of my day to day work – it's critical to our success.
My biggest career learning is to keep on learning! Develop yourself and take opportunities that are available. Be enquiring and look to understand and explore wider connections and perspectives. I have found that building a network of people across the business and industry really helps broaden your thinking.
There's always a new challenge, some of my techniques in how to approach them include:
Give it your all, be committed and tenacious

Fully understand the objectives and deliverables

Build a great team around you –

learn from everyone and s

upport others to reach their full potential so as a business we succeed

Don't be afraid to ask questions or admit if you don't know everything

Things will go wrong, be prepared to adjust, take a different approach if necessary

Be demanding of yourself, but also give yourself a break sometimes, no one is perfect!

Enjoy the challenge but also enjoy time outside work